Phoenix Chess Computer, suitable for Millennium Exclusive and Tournament Boards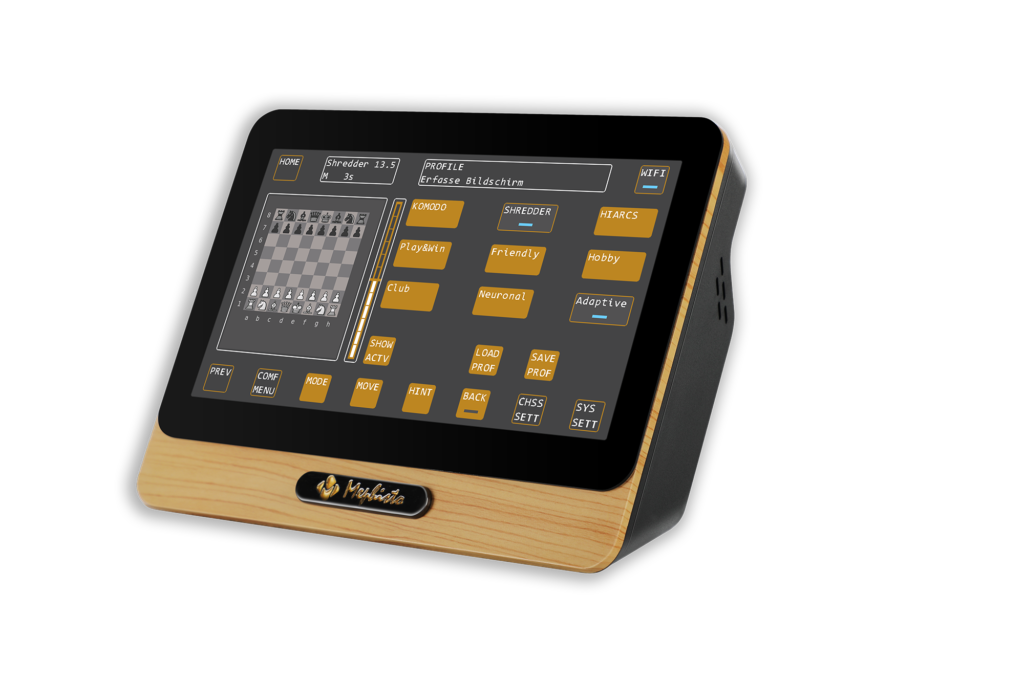 The Mephisto Phoenix is a UCI based multi-engine chess computer, which provides access to a huge variety in chess gaming. With Shredder Neuronal and Stockfish NNUE, you see the world's first dedicated chess computer using most modern neuronal engine technologies.
The module in its modern design comes with a large color touch screen made from real glass. Accompanied by the well-structured touch menu system it is meant to be the perfect home station for chess lovers of all ages, all playing strengths and all experience levels.
Most powerful chess computer of all times
The Phoenix comes with 4 different Top-Class Engines on Board: Shredder 13.5, Komodo 14.1, Hiarcs 14.2 and Stockfish 15 NNUE. Starting from a very simple level, which is also suitable for absolute beginners, the system can reach a maximum performance of over 3400 ELO. In fact, there are countless options to adjust the playing strength to your individual needs. The system covers the widest playing strength range ever provided by a chess computer.
Shredder offers a highly interesting new function with its fully automatic self-adapting playing strength with ELO rating. In this way you can continuously monitor your progress and see how much you have improved through training with the computer.
The evaluation bar beside the chess board tells you at first glance how the engine rates the position. Any blunders are quickly noticed that way and you always have a feeling on how good you do.
Great opening training per your needs
The machine comes with some different opening books: The standard one by Mark Uniacke provides you with more than 1.000.000 positions, all from master play. This is the biggest opening book ever provided by a dedicated chess computer.
The system is expanded with 23 classical chess computer emulations running at a high speed. Most remarkable is the "Mephisto Glasgow", the legendary world championship program of 1984 – which runs on the MEPHISTO PHOENIX system at a speed of approx. 66 times faster than the original machine of the time.
With the speed bar you easily control the emulation speed or set it to the speed of the original chess computer, button and display layout follows the originals.
Updates for the System come via WIFI directly on the unit, and if you purchase additional software in the computerchess.com webstore it is installed as easy as with the press of one button.
The Mephisto Phoenix is the right unit for you if you
Wish to own the most powerful chess computer ever made, building a bridge between past glory days and todays modern style of playing chess
Are interested in modern engine technologies, e.g. NNUE Technology and see how they evaluate
Like to play with retro chess computers and to see how these programs perform on a modern hardware
Compatible with the MILLENNIUM Exclusive and Tournament Sensor Boards
The MEPHISTO Phoenix requires a Millennium Exclusive or Supreme Tournament Board with RFID piece recognition.
Technical details
Chess specific properties
Suitable for
all chess lovers, from children to grandmasters
Playing strength
up to over 3400 ELO
Pieces included
No
Additional pieces
No
Magnetic pieces
No
Piece compartment
No
Hardware
Chessboard technology
RFID piece recognition required
Display with illumination
Yes, 7" Colour TFT Touchscreen with 1024 x 600 px resolution
Processor
1.5G 64 Bit Quadcore processor
CPU clock frequency
1.5G
RAM
4 GB
Connection board computer
Standard mini-Din cable, 4 pin
Software
Program
Shredder 13.5, Komodo 14.1, Hiarcs 14.2, Stockfish 15 NNUE
Emulations
Package with 23 different chess computer emulations contained
Device languages
5 (DEU / ENG / FRA / NLD / SPA)
Menu system
Text-based / Graphic, All device languages
Updateable
Yes, via WIFI and USB
Play online
App Integration
ChessLink App for Mephisto Phoenix will be integrated for direct use in 2023.
Supported servers
lichess.org
Power Supply
Batteries required
No
Power supply connection
Yes, 100 – 240V 50/60 Hz Input – 9V 4A Output
Power supply included
Yes, with interchangeable attachments for EU / UK / US
Measurements & Weights
Dimensions computer unit
7.1 x 5.12 x 3,54 inches
Model number & age recommendation
Model number
M920
Age recommended by manufacturer
10 Years & Up